ITFL Online Workshops
ITFL is an 8-session series of an integrative therapy certificate training workshop exploring Land-based Indigenous Tools for working with complex trauma while reducing burnout and compassion fatigue.
Basket 1 sets the foundation for our work together thus making it mandatory for all participants.
This training is readily available to organizations throughout Canada and the United States, however, this is the only ITFL that is open to individuals and communities in the United States.
$100 PER BASKET | $800 FOR FULL COURSE
24 CEs are available for NYS LMSWs, LCSWs, upon completion of training.
Indigenous Tools For Living
This workshop is for professionals at all levels, who are working with marginalized people. We will explore Indigenous perspectives and practice hands on learning about complex trauma to help keep grounded and be more comfortable when in difficult situations. A variety of Aboriginal/ Indigenous treatment modalities are woven throughout, including experiential exercises and land based healing techniques.
Indigenous Tools for Living, is an in-person and online training that teaches skills on how to work with and sit beside complex trauma while reducing burnout. This training will benefit clinicians, practitioners, frontline non-clinical workers in social work, victim services, first responders and similar professions. It is facilitated by instructors and Elders from the Indigenous Focusing Orientated Therapy Program, and is clinically supervised by Dr. Shirley Turcotte, RCC.
ITFL emphasizes knowledge and application through classroom instruction, applied scenario-based learning, and clinical practice and supervision. A variety of Indigenous treatment modalities are woven throughout, including experiential exercises, focusing, storytelling, ceremonial processes, body-centered and land-based healing techniques. Together these provide concrete tools and approaches for working with complex trauma in ways that avoid burnout and triggering, while at the same time maximizing impact and achieving better outcomes.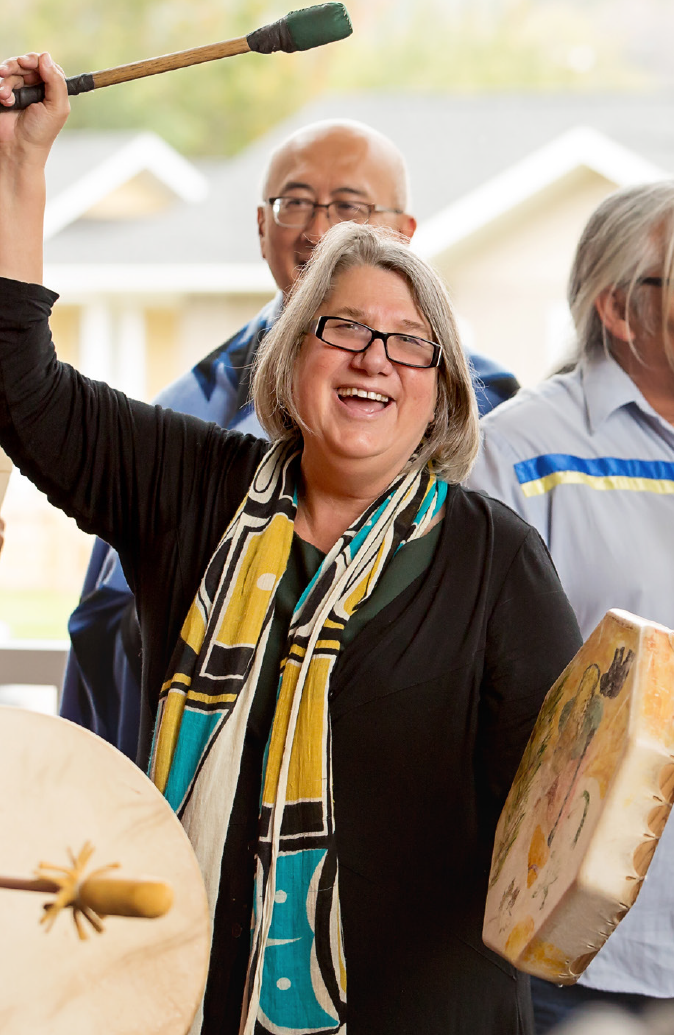 Making an Impact Across the Globe
Indigenous Tools for Living was developed by Dr. Shirley Turcotte, R.C.C.S.F.T.T who is a Metis knowledge keeper and Registered Clinical Counsellor and has been working internationally, with communities and survivors of intergenerational complex trauma, Indian Residential Schools fallout, childhood sexual abuse, and PTSD for more than 4 decades. Her work in developing applied or intergrative therapy techniques through an Indigenous collective lens is far reaching.
Shirley is a strong advocate for land-based knowledge and Indigenous perspectives on health and wellness. Her National Film Board of Canada's film, To A Safer Place; helped move the epidemic of child sexual abuse into the public eye and was the first of its kind. She is a recipient of many awards, including B.C's Woman of Distinction Award in Health and Education. She is the curriculum developer, mentor, lead instructor and clinical supervisor of the Indigenous Focusing Oriented Therapy (IFOT) Program; and she is the mentor, curriculum developer, and clinical supervisor for the Indigenous Tools for Living program.
Continuing Education
For those that are seeking continuing education credits please read the following:
Continuing Education Credits are only available to NYS licensed Social Workers (LMSW, LCSW) , Licensed Creative Arts Therapist, Licensed Mental Health Counselors, and Licensed Marriage and Family Therapist. In accordance with the NY State Department of Education guidelines, in order to receive continuing education contact hours, a participant needs to be present (on camera) for the duration of the workshop/training. Therefore, participants who arrive late or leave the training early will not be granted a certificate of completion. Full attendance, course evaluation and post test are required for certificate. Should you have any questions regarding CEs please email [email protected].
Basket 1 & 2 (Includes welcome package)